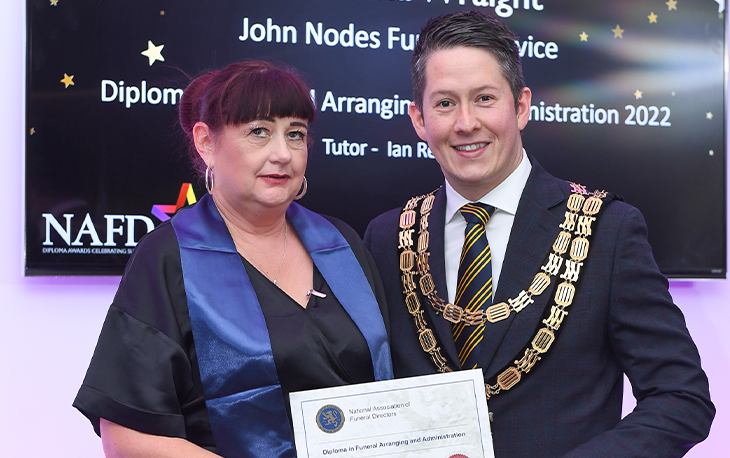 A career in funerals can be interesting, rewarding and fun.
Samantha Wraight came into the funeral industry in her mid-40s after circumstances in her life made her want to look for a new career.
Now she's thriving at John Nodes Funeral Service having recently passed her National Association of Funeral Directors (NAFD) diploma in Funeral Arranging and Administration and believes she has the best job in the world.
Her message to anyone looking for a change is to think about funerals, as age and gender are no barriers.
Samantha spent many years as a hairdresser and beautician, and her first foray into the funeral industry was keeping promises to her clients to make them look their best when they passed away.
A life-changing event in her personal life led to her wanting another career and after being advised to complete some night school sessions, she got an IT qualification under her belt and began volunteering and eventually working across a number of funeral directors.
She has since found a permanent home at John Nodes.
"It just kind of happened," she explains
"I have always liked organising things – I'm the one who will sort out the parties or the events – so perhaps there is something in my personality which was drawn to it.
"The biggest thing I have learned is you have to treat each case as an individual and get it exactly how the family want it.
"Sometimes people will want a massive celebration of life, other people will want something very traditional – the hearse, the coffin and the church.
"Even though I ran my own business, I'm not the most confident person but I love learning things and no day is ever the same.
"From the minute you take the first call from a family there are so many twists and turns which can happen or scenarios which can play out.
"Ultimately, I have the best job in the world.
"I have helped so many families and it is always a privilege to do so.
"People come to us at their lowest and to speak to them initially, and then build a relationship where four weeks later you are giving their loved one their final goodbye.
"It is so special.
"We are all going to suffer grief, and everyone's grief journey and experience is different."
Treating everyone as an individual as led to Samantha helping to arrange some unique funerals and personalised services with moments which are now etched into her memory.
"The other month we had a funeral for someone who loved to go to the bingo so during the procession we took them past the bingo hall, phoned ahead and everyone came out and applauded," she explained.
"Another one we've done recently was for a man who liked to pour himself a whiskey when he said goodbye, so we had a glass poured on top of his coffin.
"We've also had a funeral for a bus driver, where we got a bus he used to drive to follow the hearse."
And it's not just Samantha in her family who has found herself in the funeral industry, as her brother is a qualified embalmer.
"My mother always says she couldn't imagine two people who she would have predicted were less likely to go into the funeral business, but here we are," she added.
On top of her regular work, Samantha is helping to ensure the rich history of John Nodes Funeral Service, which has been serving families in London since 1828, is preserved and put on show in the Cricklewood branch.
"We are a 200-year-old brand – there are not many funeral directors you can say that about – and I do not want that history to be lost," Samantha said.
"At the moment it is a case of narrowing down the exact details and piecing bits and bobs together.
"I've recently visited the National Association of Funeral Directors archives in Solihull to do more research and I'm in touch with expert funeral industry researcher Brian Parsons – what he doesn't know about the history of funerals isn't worth knowing.
"At the Cricklewood branch there is a long corridor outside our chapels with nothing on it and my vision is to have a bit about the history of John Nodes complemented with some information about the history of funerals
"For example, they have had undertakers in one form or another for centuries, even way back in Roman and Egyptian times.
"Pre-payment funeral plans have also been in place since Roman times. People would give money to a coin club to ensure their burial had been paid for when the time came."